A pool is built for enjoyment, but the responsibility of its proper care and maintenance can be time consuming and bothersome, at best. What chemicals are best to use? How often should chlorine, pH, acid and alkaline levels be checked?   How often and in what quantity should chemicals and supplies be purchased? Is the water constantly maintained for optimum safety of its swimmers? Is the area around the pool managed properly, keeping safety and health a priority? And what about staying within regulatory compliance?
Pool Maintenance And Supplies In Atlanta, Johns Creek, Marietta, Gwinnett, Dunwoody, and Duluth
Please feel free to contact us at 770-766-5776 for a free quote or any of your pool needs. We service all of metro Atlanta including; Atlanta, Johns Creek, Marietta, Gwinnett, Dunwoody, and Duluth, and more. Call us today to see if you're in our service area.
Let us take the worry out of pool maintenance. Blue Whale Pool Management can manage the care of your pool year round, from opening to closing, and through winter maintenance. All contracts include all chemicals and supplies needed to maintain your pool.
Here are just a few services you can expect from Blue Whale:
Opening Your Pool
Opening your pool in the spring requires specific actions to insure that your pool complies with all county inspections. Also, you want your swimming pool opened properly to keep your equipment running at optimal efficiency.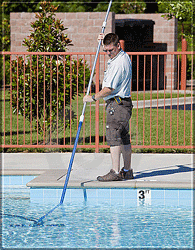 Clean, remove and store pool cover
Vacuum the pool and balance the water
Inspect pump room and all pool equipment
Start up equipment
Clean restrooms and provide supplies
Remove debris from deck
Clean pool furniture and set up around pool
Obtain pool permit from County Health Department
Summer Maintenance
Georgia state regulation requires that Certified Pool Operators service all public pools. Maintenance services are performed three times weekly by our Certified Pool Operators. Average pool maintenance as described below is two times weekly, but Blue Whale seeks to go above and beyond the call of duty to ensure your pool's safety.
During the peak swim season, we will perform these services three times weekly.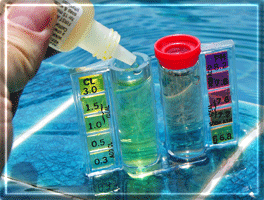 Test and balance pool water
Skim water surface and pool bottom
Clean skimmer baskets
Vacuum (once a week or as needed)
Scrub pool tiles
Backwash filter
Clean pool deck and furniture
Lightly clean and disinfect restrooms and provide supplies
Remove garbage from pool area and re-line trash cans
Pool Closing
It's important to properly close a pool for the late fall, winter and early spring months. Failure to perform a proper winter service can lead costly repairs of equipment and to the pool plastering and filtration system. Here are some of the steps we take when closing or winterizing your pool.
▪ Vacuum the pool and balance the water
▪ Winterize the pool and pump system
▪ Install the cover
▪ Remove and store furniture
▪ Remove trash and debris from the deck
We also provide emergency service, 24 hours a day, 7 days a week. If you suspect a problem with your pool, we encourage you to call us immediately. We will respond as soon as possible, usually within a couple of hours. Situations handled in a timely manner may prevent your pool from having to be temporarily closed.