While certainly not the most pressing task in the world, neglecting swimming pool repairs is a recipe for bigger issues down the road. An unused pool is not only an eyesore, it s also a huge waste of valuable space; one of the most effective ways to keep your pool up and running is to tackle swimming pool repairs as soon as possible and to keep up with your swimming pool maintenance. Blue Whale s expert service technicians are trained to locate and repair any aspect of your pool or spa with speed and efficiency. All work is fully guaranteed.
Please feel free to contact us at 770-766-5776 for a free quote for any of our pool repair and pool renovation services, such as plastering, replacement of tiles, complete renovations, salt chlorine generators, and more. We service all of metro Atlanta including; Atlanta, Johns Creek, Marietta, Gwinnett, Dunwoody, and Duluth, and more. Call us today to see if you're in our service area.
Swimming Pool Repair Can Make A World Of Difference In How You And Others View Your Pool
Swimming pool repair is one of those projects that can make a world of difference in how you and others view your pool. We service all makes of pumps, filters and all swimming pool equipment. As your gunite or concrete pool begins to age, the plaster will require the occasional repair. Cracking, hollow spots, sometimes called pop-ups , and chipping are not uncommon.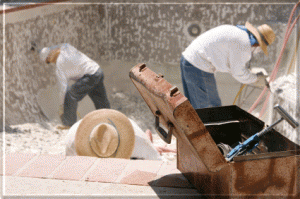 When the plaster is old and worn away, it is time to re-plaster the pool surface and give it a smooth finish.   We offer three plaster finishes: white marcite, quartz and pebble finishes plaster.
Our remodeling services:
Pool surface re-plastering
Pool equipment replacement
Tile replacement
Concrete deck additions & replacements
Acid washing
Coping replacement
Call us today at 770-766-5776 and request a free quote to have one of our specialists come and give you a quote on pool repair and or renovation options.