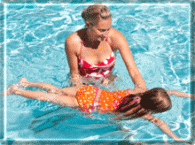 Blue Whale Pool Management offers swimming lessons! Classes are conducted by our trained instructors or certified lifeguards and are available on a group, semi-private, or private basis. Individuals taking the lessons are responsible for payment of lesson fees.
Please feel free to contact us at 770-766-5776 for a free quote for any of our lifeguards and swimming lessons. We service all of metro Atlanta including; Atlanta, Johns Creek, Marietta, Gwinnett, Dunwoody, and Duluth, and more. Call us today to see if you're in our service area.
Group Session: 
6 students maximum per class, minimum of 3 students. Eight (8) classes of thirty minutes each session. $80.00 per student.
Semi-Private: Lesson
2 students per lesson $40.00 per ½-hour lesson ($20.00 per student).
Private Lessons:
One-on-one instruction $30.00 per ½-hour lesson.
We can also assist you in locating and hiring swimming coaches and/or diving coaches.
Make your pool an even safer place to be! Contact us for more information by using the form below.