Winter service of uncovered pools will be checked and maintained on an as-needed basis. Realize that an uncovered pool can cost much more to maintain and upkeep as well as present liability issues. Call us today at 770-766-5776 to have us discuss the pros and cons to having an uncovered swimming pool.
Please feel free to contact us at 770-766-5776 for a free quote on our winterizing pool services and pool covers. We service all of metro Atlanta including; Atlanta, Johns Creek, Marietta, Gwinnett, Dunwoody, and Duluth, and more. Call us today to see if you're in our service area.
Covered Pools
The following will be performed for covered pools once a month:
Pump water off solid cover, or lower pool water for pools with a mesh cover
Remove leaves and debris from pool cover
Test and balance pool water
Remove leaves and debris from deck
Pool Covers
You made an investment when you built your commercial pool.   Aside from proper maintenance, the next best investment you can make is a pool cover for the winter season.
Blue Whale offers both solid and mesh covers, with the following features: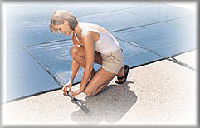 Stainless steel springs
Brass thread-type anchors with slot and hexagonal head
Stainless steel buckles
12-year limited warranty
Pool Covers Help To Achieve The Following Benefits
Reduce the wear and tear on pool equipment, because equipment can be shut off during the winter season
Lower energy expense
Reduce the amount of chemicals required
Keep the water cleaner by keeping out leaves, dirt and other debris
Prevent accidents and keep out unwanted visitors
Protect a pool from harsh winter elements
You can be assured that a pool cover from Blue Whale will serve you well for many years.   The savings in maintenance, the added safety value and the removal of a worry factor make a pool cover a worthy investment.   And any purchase of a pool cover from Blue Whale comes with free installation! Call us today at 770-766-5776.